Accelerate Business Productivity with GPT Integration: A Comprehensive Guide
The rise of ChatGPT
OpenAI's ChatGPT, an AI chatbot, has taken the world by storm. It has quickly surpassed the popularity of any other AI chatbots made available to the public. ChatGPT has quickly become a go-to resource for many, receiving approximately 590 million visits in January from 100 million unique visitors. In January, just two months after its launch, the chatbot had 100 million monthly active users, demonstrating its potent capabilities.
But ChatGPT is more than just a fun tool for chatting; it has the potential to change the way businesses operate. Businesses that integrate ChatGPT into their operations can automate repetitive and time-consuming tasks, improve customer experience, and gain valuable insights. With detailed examples, this article will show you how to use ChatGPT in your business.
Automating email responses
One way to leverage GPT's power is to automate email responses. Consider never again having to sift through hundreds of emails. You can use GPT to train the model to recognize common questions and respond to them quickly. This not only saves time but also ensures that customers receive timely responses.
Example use case: Auto email responder
In this example, we will ask GPT to act as our employee with the title "Business Development agent". Given him the context about the company that he's working at, let's pretend to be the customer and ask him real scenarios: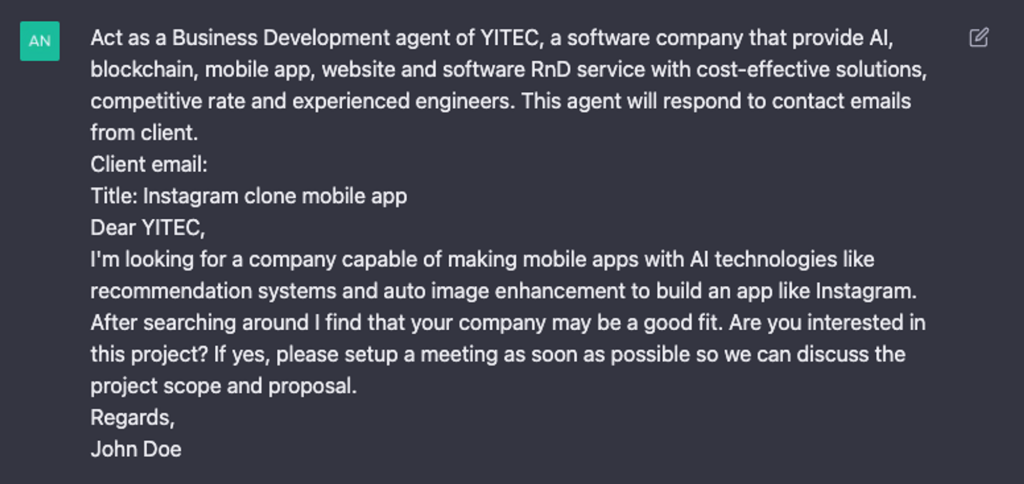 Now it's time to see how GPT answered. The result is surprisingly good: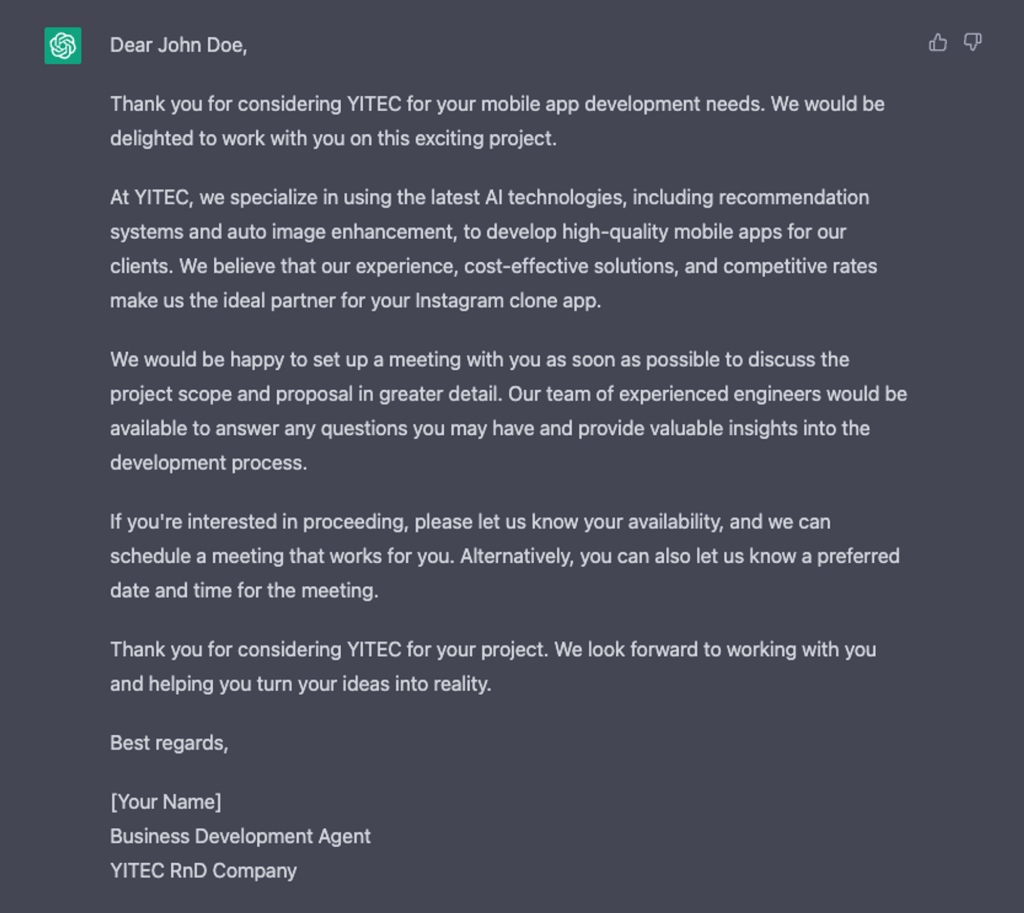 The AI accurately conveyed our company's information based on the given context and responded in a professional manner that addressed customers' needs. Composing such a response may take time for an ordinary person, but this technology can benefit companies struggling to manage their inbox. With this technology, we can promptly draft a response after receiving an email or even automatically reply to improve our response rate.
Customer service chatbot
Another area where GPT can be utilized is in chatbots. Chatbots are used by many businesses to answer frequently asked questions, such as those about terms of service or user support. Businesses can provide more personalized, natural responses and improve the overall customer experience by incorporating GPT into these chatbots.
Example use case: Customer support chat agent
In this example, we provided Apple Itunes' Terms of Service to ChatGPT. After that, we asked him to act as Emily, a customer service representative. Let's see if ChatGPT can take on this role.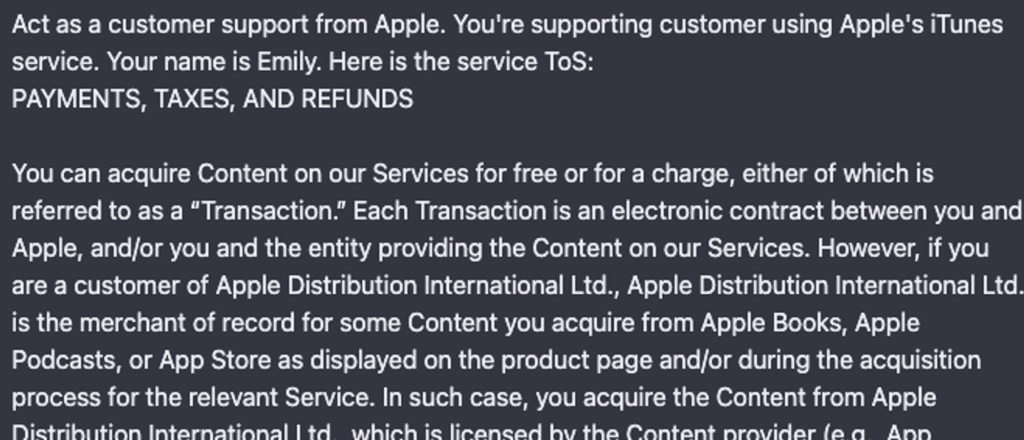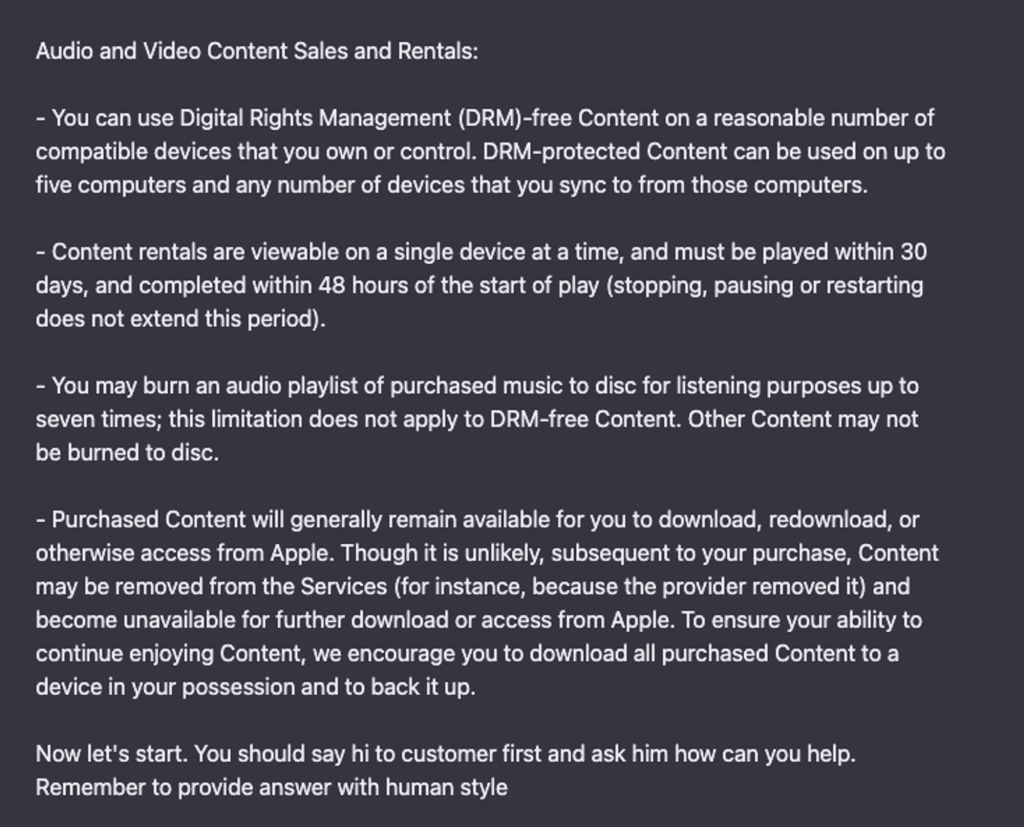 From this moment, ChatGPT will be the support agent and he will greet us first:

We asked him about downloading music right, which is included in the terms of service. Let's see how he answers: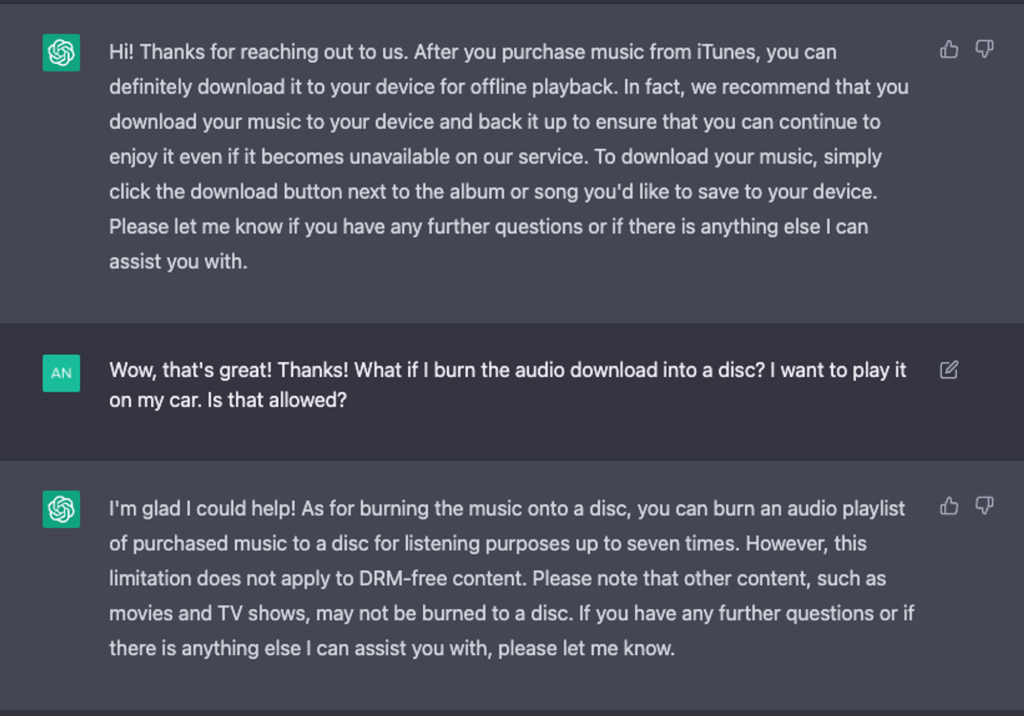 The answer was correct! He even gave a good answer to the question about burning music to a disc. As you can see, ChatGPT provided a precise answer to the question based on the Terms of Service. It is not copying and pasting the FAQ, but paraphrasing it to provide an answer. Furthermore, the answer is presented naturally and contains sufficient information for the customer. This is in contrast to traditional chatbots that provide repetitive answers. This approach has great potential to enhance the productivity and quality of your online customer service support channel.
Marketing and sales
Another area where GPT can be used is in marketing and sales content. By training the model on the brand voice and messaging of a company, it can generate compelling and persuasive copy that aligns with the company's goals.
Example use case: Writing a sales copy using AIDA framework
AIDA is a popular sales and marketing framework for creating persuasive and effective sales copy. AIDA is an acronym that stands for Attention, Interest, Desire, and Action.
According to the AIDA framework, a sales message must first capture the reader's attention, pique their interest, instill a strong desire for the product or service being offered, and then prompt them to act. Here's a breakdown of each step:
Attention: The first step is to get the reader's attention with a headline, tagline, or image that is eye-catching and relevant to their needs or desires. This could be a provocative statement, a question, or a shocking statistic.
Interest: Once you have their attention, you need to generate interest by highlighting the benefits and features of your product or service. This could involve using stories, statistics, testimonials, or other forms of social proof to establish credibility and build trust.
Desire: After creating interest, the next step is to build a strong desire for the product or service by showing how it can solve the reader's problems, fulfill their needs or desires, or improve their life in some way. This could involve creating a sense of urgency or scarcity, or highlighting the emotional benefits of the product or service.
Action: Finally, you need to prompt the reader to take action by providing a clear and compelling call to action. This could involve asking them to click a link, fill out a form, or make a purchase. The call-to-action should be easy to find, clear, and focused on the benefits of taking action.
Using the AIDA framework, you can create a sales message that is persuasive and effective in getting your audience to take action. In this example, we will require Chat GPT to introduce our product using the AIDA framework. This product is called VICB – Virtual Intelligence Callbot. This product will automate call centers with an AI agent that is capable of answering customers on the phone using AI voice and AI chatbot in real time. This product will improve the call center's productivity and boost customer experience by reducing call center outages. Here's the response: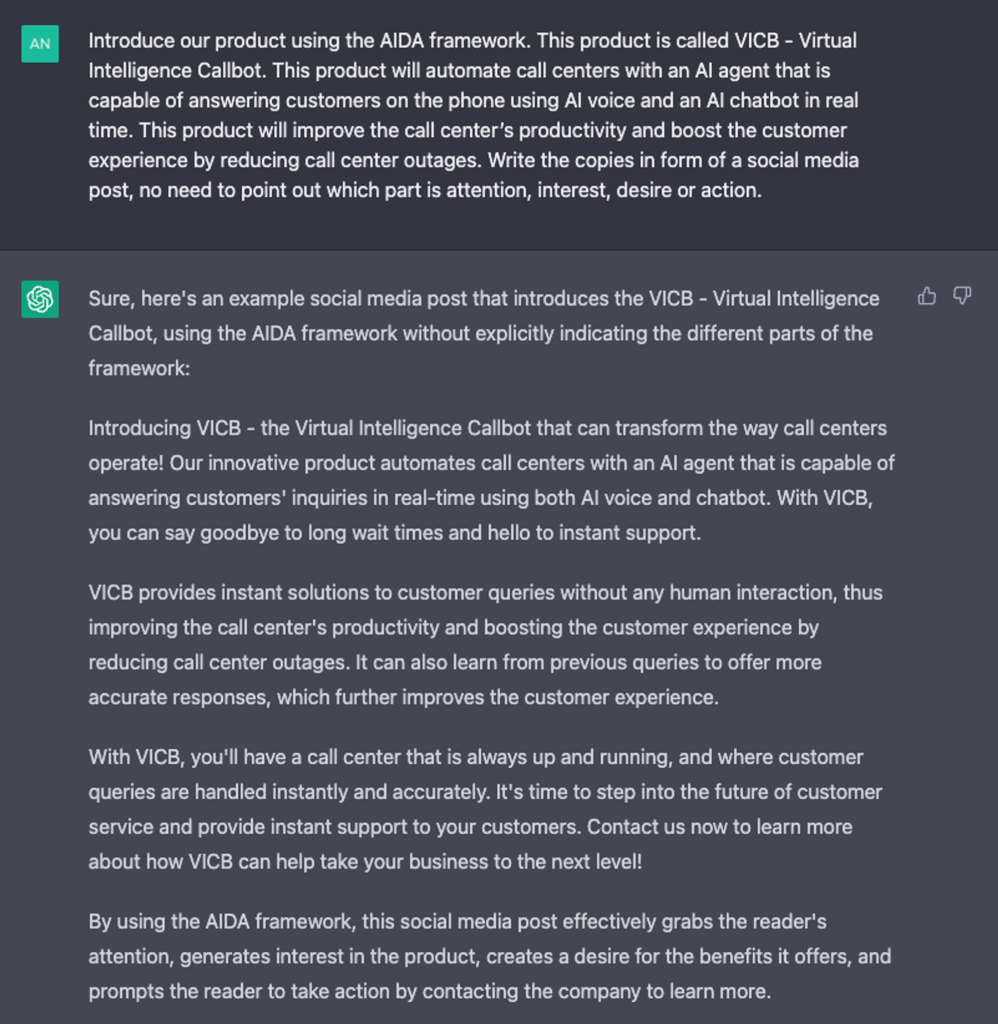 Professionals use the AIDA framework as a sales and marketing technique. ChatGPT, on the other hand, not only understands it but also applies it very well. With this feature, you can save time writing sales copy by simply entering your product details and letting ChatGPT handle the rest.
Sentiment analysis
Sentiment analysis is a powerful tool that can help businesses understand their customers better. With GPT, businesses can analyze customer behavior and tailor their marketing strategies accordingly. This can lead to more effective marketing campaigns and improved customer satisfaction.
Use case: Analyzing amazon comments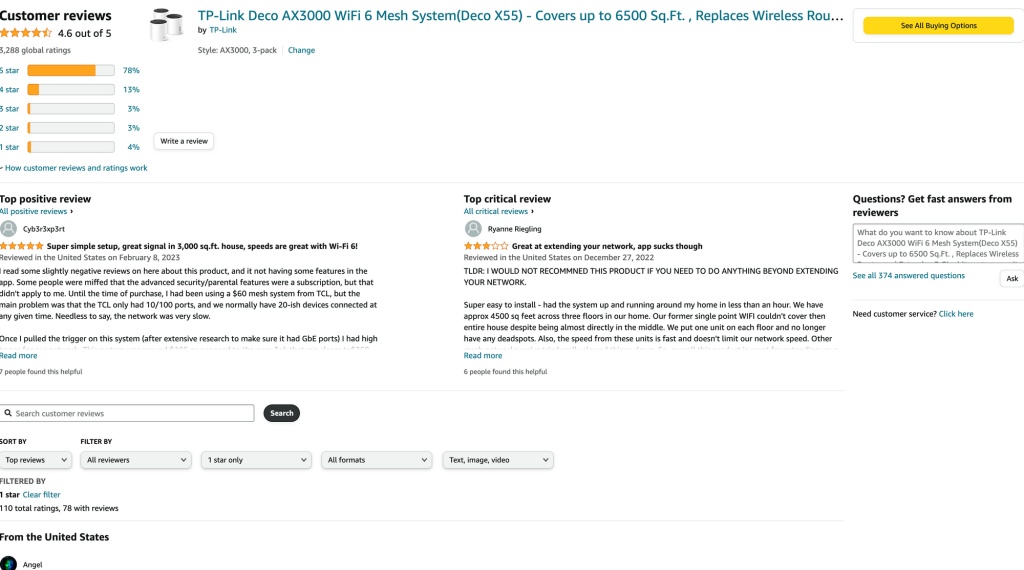 In this example, we will review Amazon comments using ChatGPT. The comments and reviews on Amazon are notable for their length. Imagine spending an entire day reading long comments to determine what users like and dislike about our product; you will understand the agony! Let's copy and paste all of these comments and ask Chat GPT to respond:
Prompt:

Please define these comments are negative or possive:

I have never written a review for any product, but this was beyond amazing! Our rural home only has a very weak satellite based wifi with a very limited amount of "highspeed" available. This system plugged right into the existing modem/router that came with the original system and it drastically improved the connectivity and the range. I was able to place 3 Deco Mesh Wifi units to cover the entire 4000 sqft main house. The detached garage apartment was also able to pick up a strong signal from a unit inside the house. But to my total surprise, I was able to get a strong signal in the barn, which is about 100yards from the house! The ring camera in the barn was able to pick up the signal well enough to use "live" view which I could not do before at all with only a hotspot signal in the barn, I was able to completely remove the hotspot in the barn and the wifi from the house is giving great coverage for the main house, garage apartment, and the barn 100 yards away! Not to mention the bonus of great coverage while outdoors in the yard. My husband is now able to work on video conference calls without yelling at the rest of us to stop streaming at the same time. This is a "quality of life" game changer and cheaper than what it would have cost to upgrade my wifi service, which still would not have provided the coverage that this system provides! Major enhancement to my existing basic system!!
Been searching for a good mesh system for awhile before pulling the trigger on this. Price was great. Like half of what i was planning on spending. Coverage is amazing. I specifically needed at least 2 open ethernet ports on my main one that connects the modem and this has it. Ethernet back haul is amazing. Direct connected to the main router I get 201 down and 38 up which is pretty good for us here. Ethernet backhaul i got 199 down and 38 up which is within margin of error. Wifi connected to one of the access points i had 190 down and 35 up so barely and loss. The app is pretty good and you get a lot of good features for the free version. Stuff like qos devise priority, and device blocks, nat/ port forwarding, connection alerts, and a few limited parental control. I did buy the premium version with the avera AV suite but thats cause i needed an AV anyways. Honestly if not for that I'd have been just fine with the free settings, at least until i needed more advanced parental controls. No regrets with this system and I've recommended it twice now to family and friends.
I bought this on prime day as I was only using my cable company router for the past few years, for I wanted to have more expanded stable wifi coverage at my new home. I unfortunately assumed that gaming speeds had to at least be the same or better with a high level router system like this, than the generic cheap router I was using from my cable company. WRONG… This router may work ok for people that only need expanded wifi coverage for cell phones and wifi devices but if you are a console gamer, steer clear! My cable company's cheap router gave me 32 Mbps upload, not 5- 8Mbps ! It seems to not communicate well with my hardwired playstation 5. Additionally I assumed it could be fixed inside the not so impressive phone App, so contacted the company via text support to see if it could be resolved. They had me do everything under the sun as far as hardware hookups but very little on the App. I have had a recent rotator cuff surgery which made all the unnecessary unplugging of modems and routers quite difficult, for it to eventually end by them saying 'we will call you back on a future date to continue to try to address this issue" and they could give me no specific time. The return window was close (due to my surgery) so I just chose to return it instead of waiting indefinitely on a call that may not even fix it. Dealing with the text customer service seemed generic, I did not feel they realized the real issue being console compatibility, they kept trying to test my incoming internet speeds from the modem itself, and then pc with and without the router in line, none of that was ever my issue from the start of the call, as I told them the pc works fine and so does wifi to devices, its the 'hardwired' Gaming Console that is not working correctly (upload was creeping very slow!) but then they go to blaming Sony for the ps5 for not giving me good speeds, which is obviously not the issue since the cheap cable company router gave me 5 times faster upload speeds! Oh and they told me to do a 'speedtest.net' test on the ps5, when you CANT do that on ps5! They kept saying it could, so I could, lost connection with them when I googled it to only to find I was right, You can NOT do a speedtest.net test on a ps5! Had to contact them back and start all over… -_- So… yeah, never going to buy from this company again personally… I should have took the prime day discount on the Trusted Nighthawk gaming router and not worried about having expanded wifi coverage assuming gaming would still be 'acceptable' with this new mesh one when in the end. Its not…. I also lost out on the good deal on the nighthawk so this purchase was a nightmare all the way around…Trouble shooting and repackaging with one good arm to top it all off, lots of real pain …
Let me make it very clear that this review is about the TP Link company policy (End User License Agreement), not the actual product. I bought this to improve WiFi coverage in my house and shop. I was very excited to receive it and get it up and running ASAP. The documentation mentioned that I needed an app to install it, so I downloaded it and fired it up. The first thing it did was to request that I set up an account with TP Link. I thought that was weird. I want nothing to do with them other than download firmware updates, and I most certainly do not want my router to be connected to some sort of mothership. As it turns out, you cannot install the system without creating this account. I thought that I might be able to delete it afterwards, so I started setting the account up. Then the app asked me to confirm that I had read the privacy statement and EULA, so I clicked on the link and actually started reading it. This is where I decided to return the product. The EULA was unfathomably invasive, and it was clear to me that I had not bought a product that I actually own, but rather TP Link grants me a license to use it. Sure, this is standard for most software today, but the EULA basically gave TP Link all the rights in the world (including to my personal data, browsing history, DNS records, etc), and made it clear that I had absolutely no rights whatsoever. It went as far as saying that they reserve the right to sell/trade/share all this data with affiliates, partners, and other companies under the TP Link umbrella. I thought about this for a second, and then simply decided that 1) this ultra-restrictive EULA nonsense is something that has crept into almost all products and services that we use on a daily basis, 2) the corporations always seem to own everything, including our data, and 3) until this unacceptable annoyance is removed, I will simply not support those companies that use these extremist practices. I'm voting with my dollars. I found an open source product that is completely free of this idiocy, that I have full control over, that I can extend/modify/tweak to my liking without breaking any agreements. It's also completely subscription free, and I don't need an account to use it or set it up. So, TP Link executive staff – if you read this (I'm sure you won't), I will never buy another product from you until you completely move away from the ridiculously restrictive EULA practices.
Not so long after we ask ChatGPT, it answered: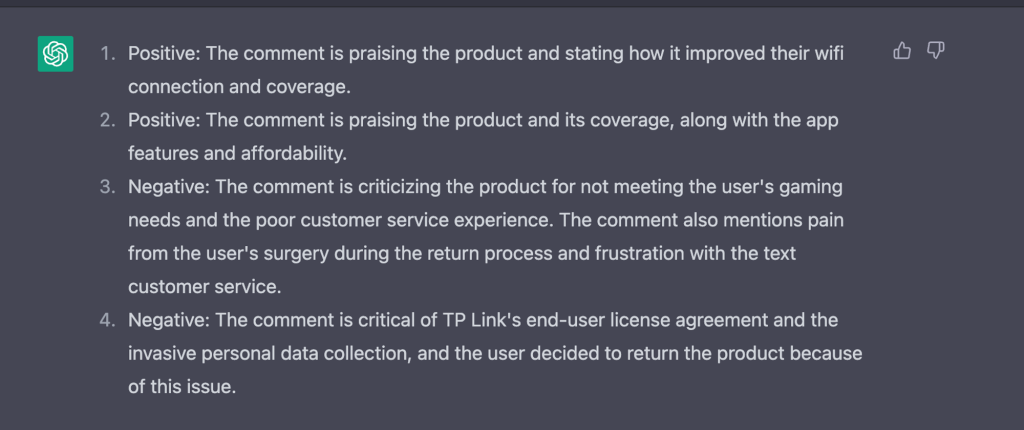 The outcome has once again taken us by surprise. ChatGPT correctly classified these lengthy comments and briefed them for us to see what users liked and disliked about the product. We can grasp important ideas in a few sentences rather than reading multiple-paragraph comments. This is very promising for e-commerce businesses because it saves reading time and provides more insights about customers.
Automating documentation & writing
The documentation process can be time-consuming and labor-intensive, particularly when manual data entry and formatting are involved. ChatGPT can be used to generate reports, summaries, and other types of documents based on predefined criteria. This can save time and eliminate errors that may occur during manual document creation.
Example use case: Writing a Non-disclosure Agreement
An NDA (Non-Disclosure Agreement), also known as a confidentiality agreement, is a legal contract between two or more parties that specifies the confidential material, knowledge, or information that the parties wish to share with each other for specific purposes but wish to keep confidential and not disclose to third parties. NDAs are frequently used in business transactions, employment relationships, and other situations where sensitive information must be exchanged. Let's try to get an NDA from ChatGPT:
Write an NDA between 2 companies YITEC CO LTD located at 643 Pham Van Dong st, Hanoi, Vietnam, 10000, and John&Doe company located in Washington DC, US. 2 companies working on the project: "GPT-3 Business Automation Software". In the NDA, state that no source code, technology secret, or algorithm should be disclosed. The legal court will be held in Singapore. The intellectual property will belong to YITEC CO LTD.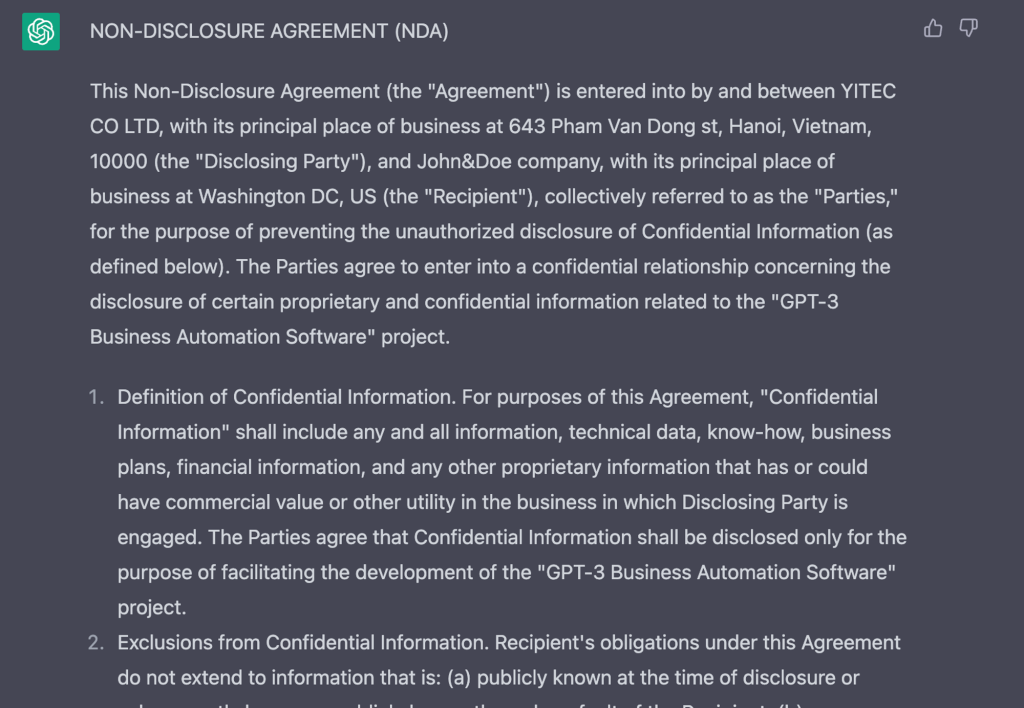 Correct information about 2 parties

Correct information about Jurisdiction

Correct information about IP ownership
ChatGPT answered with a fully completed NDA and correct information based on what we submitted but also included what a standard NDA should contain. Of course, we may need to carefully review the created material to ensure that no terms conflict with what we intended. We can definitely utilize it to help build business documents much faster.
Example use case: generating a project work breakdown structure
As a project manager, I normally spend a significant amount of time with the team developing a work breakdown structure (WBS). A Work Breakdown Structure (WBS) is a nested structure that divides a project into smaller, more manageable components or tasks. The work breakdown structure (WBS) gives a visual representation of the project and its components, allowing project managers and team members to better grasp the project's scope, timetable, and deliverables. Creating a work breakdown structure is a time-consuming procedure, and we may occasionally miss a vital activity. Interestingly, ChatGPT can construct and estimate a work breakdown structure.
Prompt: Generate a work breakdown structure with time estimation for the "Instagram Clone App" project. This project requires all the work to develop a mobile app clone like Instagram. The developers in the project are Senior developers with 6 years of experience in Python, React and NodeJS
In the prompt, I provided ChatGPT with all of the project's scope information, including the level or quality of our resources. Let's see how he responded: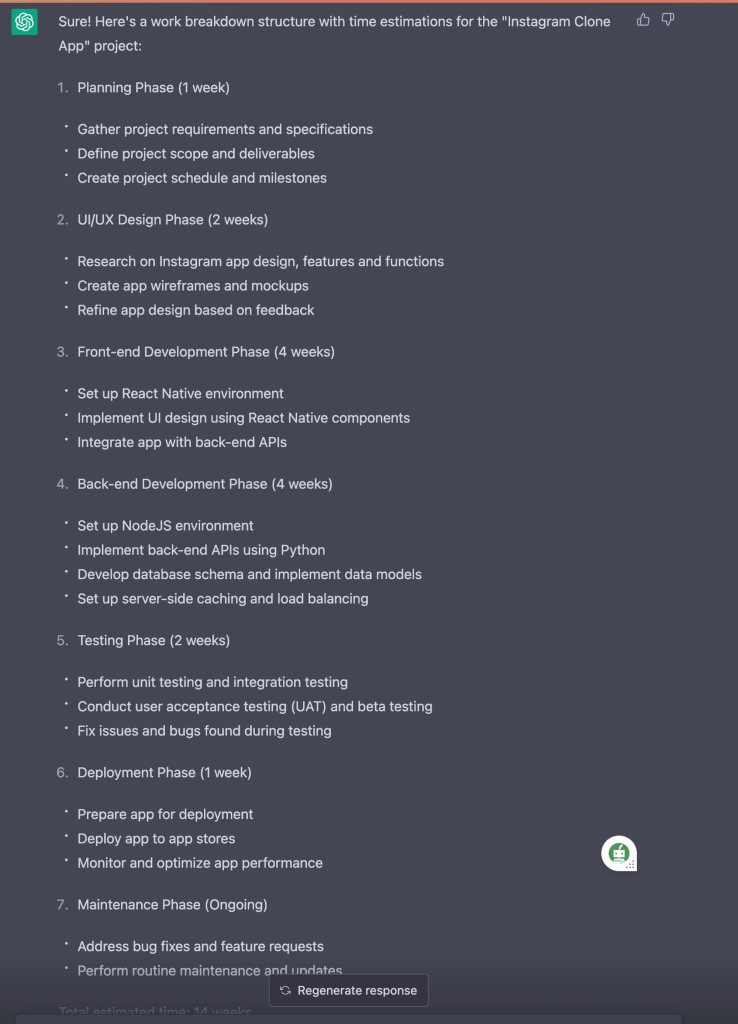 Surprisingly, ChatGPT developed a breakdown structure that matched our developer's expertise and covered all of the major jobs that were required. This project can be completed in 3.5 weeks, which is also reasonable. What if we need it to be broken down further? Assume it has all of Instagram's features: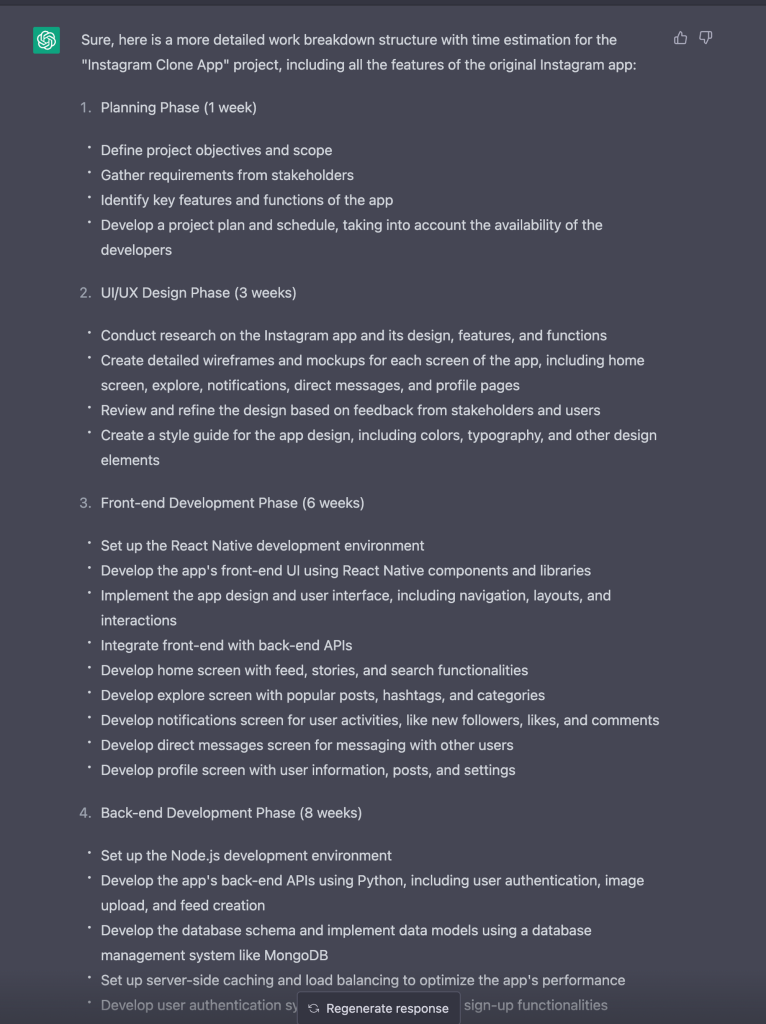 ChatGPT performed admirably once more. He included all the technical responsibilities for the development of Instagram's features. With this precise breakdown, we can ensure that our team does not forget any tasks in the WBS and we can also speed up the procedure of creating WBS documents.
Summarizing
Another area where GPT can assist businesses is in summarizing and writing. By training the model on a given topic, it may generate accurate and informative summaries or articles.
Example use case: Summarizing a meeting transcript
In this use case, let's try to summarize the transcript from the G20 summit: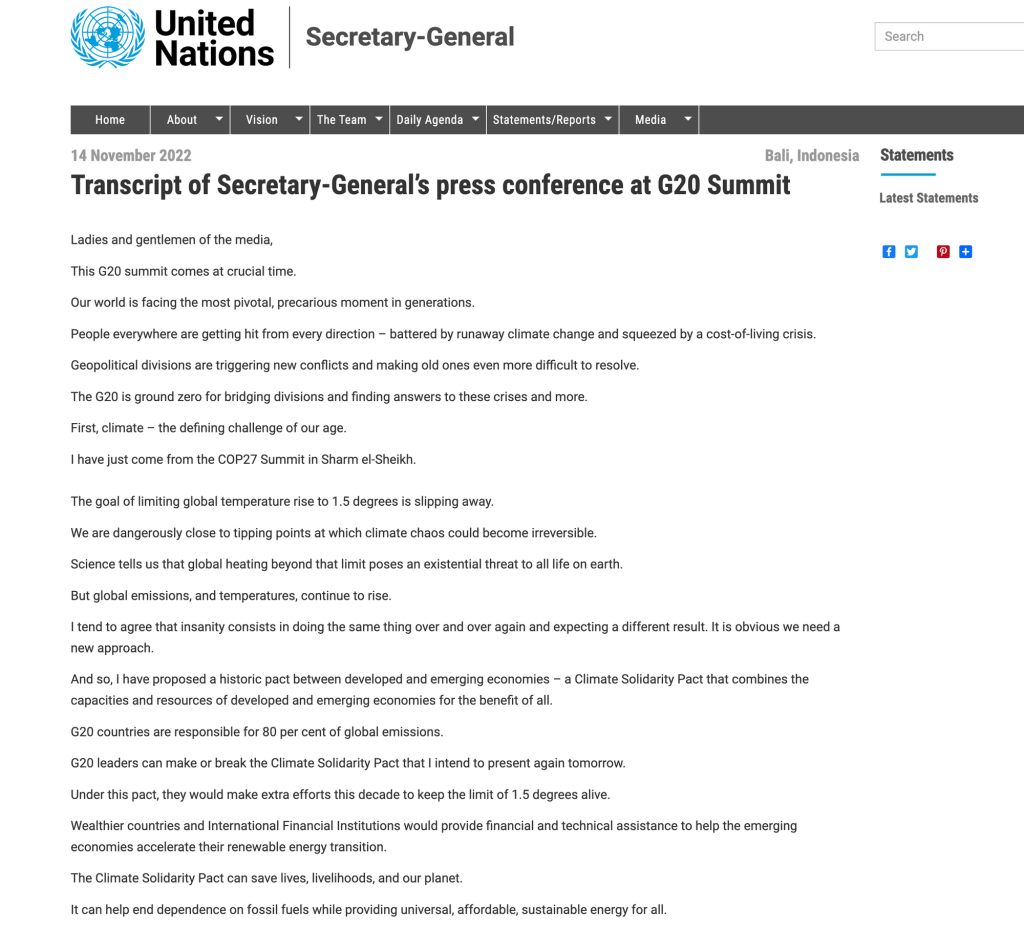 See more at: https://www.un.org/sg/en/content/sg/press-encounter/2022-11-14/transcript-of-secretary-general's-press-conference-g20-summit
If you click on the transcript link, you'll notice that it's a lengthy Document. With today's AI automatic voice recognition technology, you may effortlessly convert your conference calls to a document. Unfortunately, summarizing lengthy meeting notes or transcripts is a time-consuming process. Let us ask GPT to perform the following: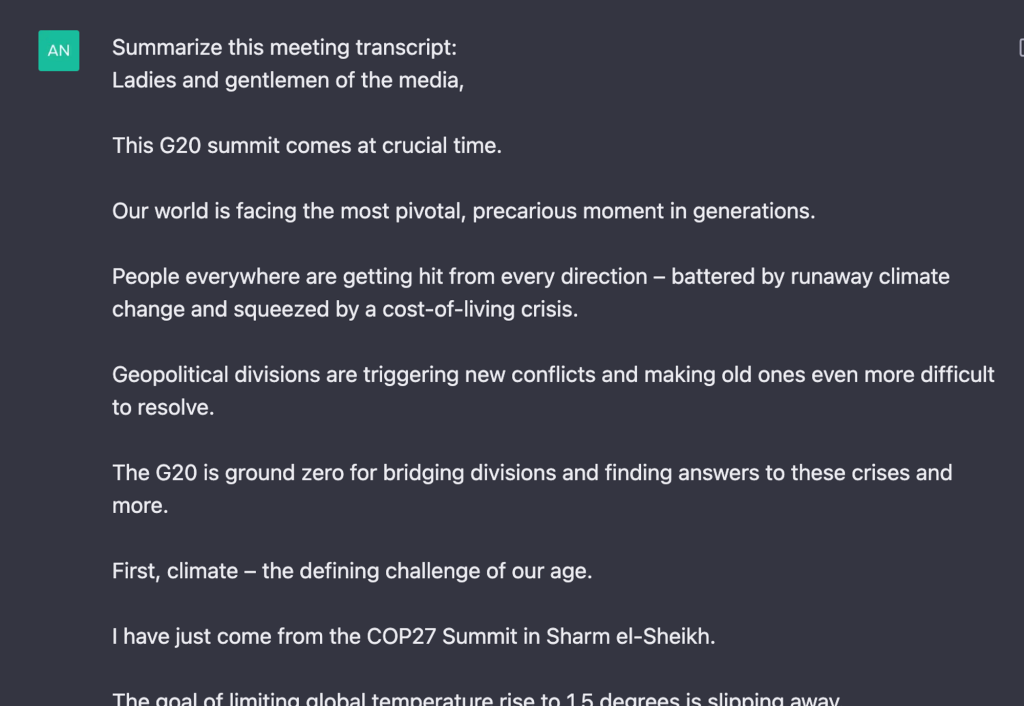 Now it's time to see the answer: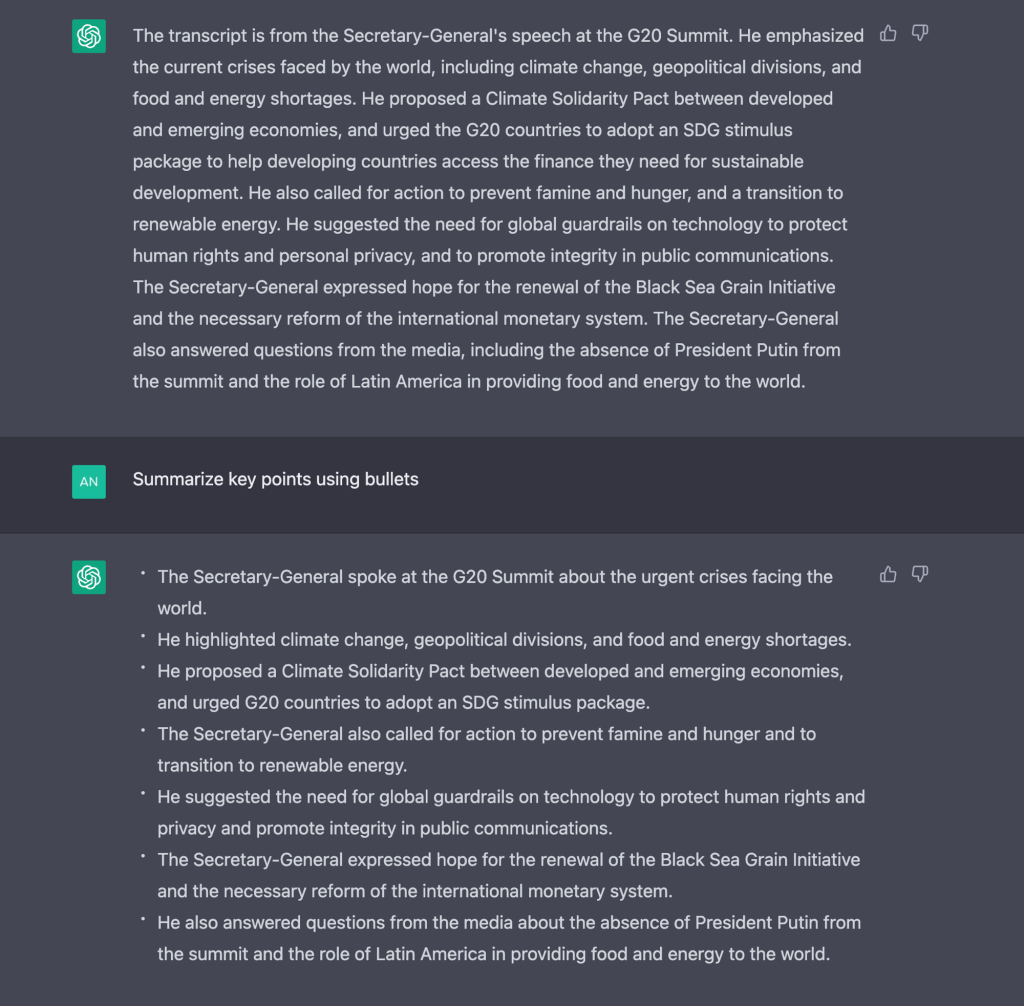 We requested GPT to summarize the transcript, and it exceeded expectations. The condensed paragraph is short and easy to read. If we want it, it can even list all significant points in bullet form. This has a lot of potential for businesses that have a lot of meetings but spend a lot of time organizing and summarizing them. You may also use GPT to summarize other types of documents, such as reports and studies, which saves you a ton of time.
Is ChatGPT all you need?
Of course, automating your business means that you won't have to go to ChatGPT and manually request answers. By integrating ChatGPT into your CRM, CMS, mailing system, or any other business application, GPT will automatically do its job whenever clients send an email, someone asks a chatbot, or receive new documents to summarize,…
However, it's important to note that in order to utilize these applications, businesses need to understand how to integrate APIs, write code, and build systems to synchronize data and streamline tasks. That's where YITEC comes in. Our firm can help businesses build a custom GPT model to meet their specific needs or utilize OpenAI's core technology for their business ideas. We can build custom chatbots on a business's website with GPT integrated, automate call centers, and build mobile apps with ChatGPT inside.
The power of GPT can be harnessed to automate tedious business tasks, improve customer experience, and provide valuable insights. By working with YITEC, businesses can take advantage of this technology without any trouble. So what are you waiting for? It's time to automate your business and focus on what really matters.